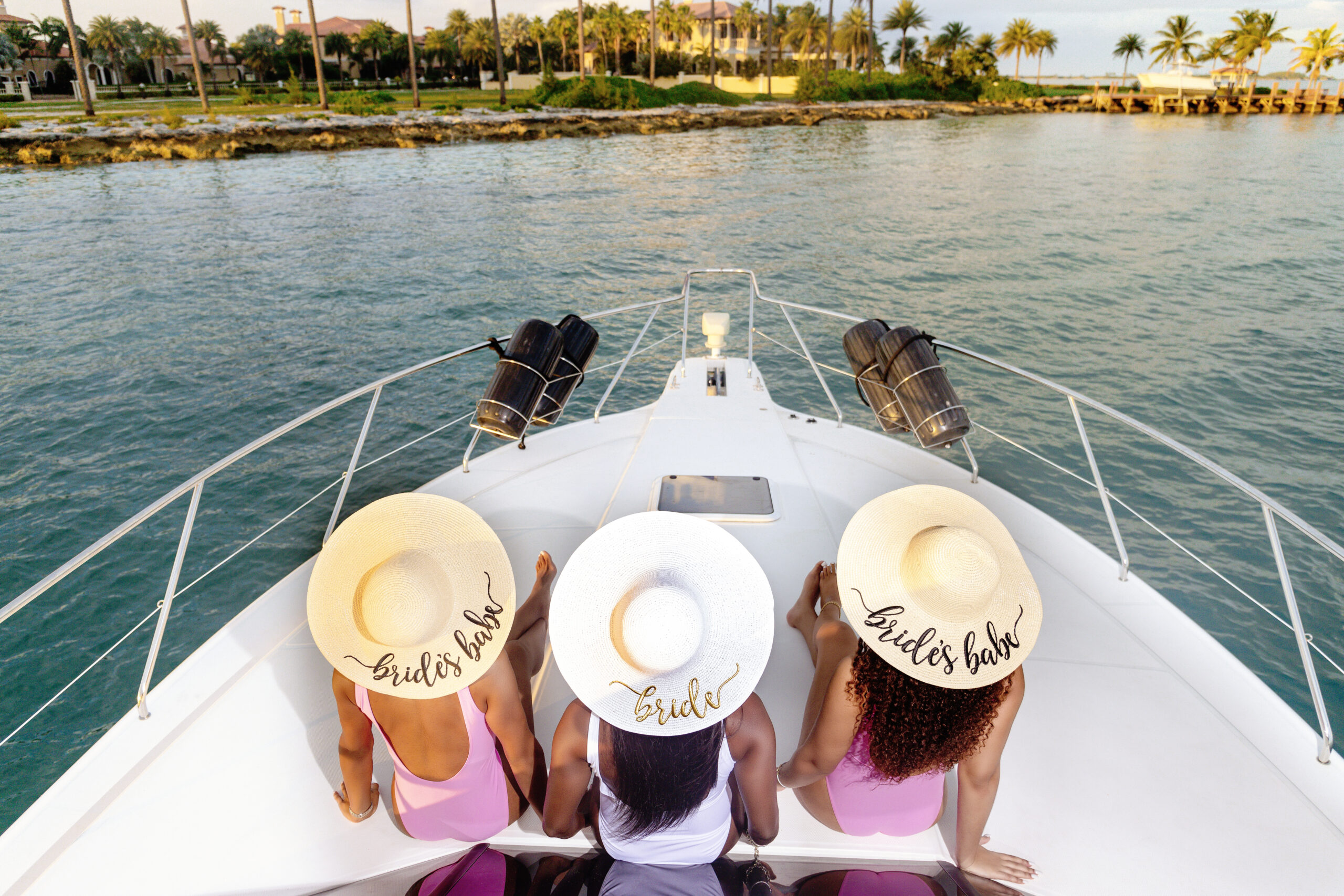 You said Yesssssss and now you're probably wondering what's next. How far in advance should you start planning? Should you hire a wedding planner or DIY your special day? Should you go basic or have an epic destination bachelorette party? The answer is simple, go big and go hard. After all, how many times are you going to have a bachelorette party? Now you have just one more problem. Where will you and your girls have the most unforgettable bachelorette experience? The only place that has everything you need of course…..The Bahamas. Here are 5 reasons you should make the Bahamas your 2022 Bachelorette destination:
1. Sun, Sand & Sea
Astronaut Scott Kelly said the Bahamas is the most beautiful place from space and, well, who could argue with an astronaut. The Bahamas has warm weather, white sandy beaches, and the most beautiful turquoise waters you will ever see in your entire lifetime. It is the perfect tropical getaway for you and your girls. Imagine your squad sipping pina coladas on the beach in your matching swimsuits taking the most instgrammable pics with the beach as your backdrop. Who just broke the internet? You did!
2. Location & Accessibility
Conveniently located in The Atlantic Ocean, The Bahamas is an English-speaking country easy to access by air and sea with the majority of North American visitors able to fly here directly with one-way flights offered by Jet Blue, American Airlines, and Delta Airlines. Also, if you are travelling from Europe, airlines such as British Airways, Air France, and United offer one-way flights into the #1 bachelorette beach paradise destination.
3. Currency & Exchange
The Bahamas is unique in many ways but one of the benefits of choosing this getaway for your destination bach bash is the fact that U.S currency is accepted on the island as the Bahamian dollar is on par with The U.S dollar. ATMs are widely available in the capital and most popular island; Nassau, and the majority of businesses are equipped with credit card machines. Party more, worry less and just swipe, swipe, swipe without having to constantly calculate exchange rates.
4. Food
Mmmmmmm. Have you ever experienced a foodgasm? Whether you're a foodie or not, your bachelorette party could not be epic without great food which is another reason the Bahamas is the most appetizing choice for your 2022 bachelorette bash. After sipping Bahama Mamas on the beach all day the bride squad will need to indulge in delicious mouth-watering Bahamian dishes. Bahamian cuisine is known for its flavorful food which is a fusion of Caribbean and Southern American flair due to our shared West African heritage. Bahamian dishes are usually prepared with lots of herbs, spices, seasoning and love. If you are a seafood lover, you picked the right place to bach as fresh seafood, namely conch, grouper, snapper, and lobster are among the most popular dishes served here. If you have a sweet craving we've got that covered too. Your Baha Bach is not complete until you've had the most amazing authentic Bahamian dessert, Guava Duff. Guava duff is top 2 and she ain't number 2.
5. Things To Do
The Bahamas is known for having the most beautiful beaches on earth but there are so many other things to do here that would make this the ideal 2022 bachelorette destination. World renowned spas like ESPA, upscale restaurants like Nobu, and the largest casino in the Caribbean call The Bahamas home. For the thrill seeking bride squad, ATV riding, excursions to interact with dolphins, sharks and the world famous swimming pigs will certainly make this Baha Bach an unforgettable experience. If your squad is Bach and Boujie, bar hop, club and hit the casinos all night then wake up in the morning for yoga on the beach then get ready to do it all over again.
Your destination bachelorette bash should be epic and memorable. We know that party planning can be hard and time consuming so let Bahama Bach Babes handle all the details from start to finish as we are a full service bachelorette event planning company. Worry less and party more knowing that we've got your back ad your bach! Visit our website or schedule a free consultation. Let's get this party started!